arrow1@olypen.com

Hours (PST)
9-5pm Mon Through Sat

Orders :
1-866-586-0232

Technical Advice and Information:
360-417-0232

Due to overwhelming demand and current current backlog, we will not be accepting any NEW orders at this time.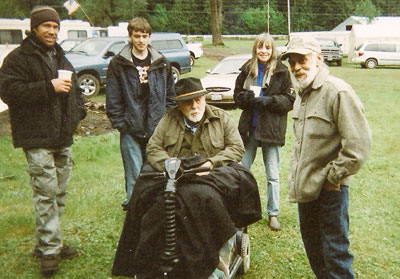 GLEN ST CHARLES AND THE HILDEBRAND CREW AT THE TRI STATE RENDEVOUS IN PACKWOOD WA.
MEMORIAL DAY WEEK END 2010    

Our Guarantee:
"All shafts are guaranteed to be round, sound and free of defect, straight or easily hand straightened"

Sitka spruce gets its strength from a very long fiber which makes it difficult to mill and machine; sharper tools are needed. Some characteristics of Sitka Spruce from the "grading and dressing Rule16" and the "export R list Grade Rules" are: 
1. Extremely resilient
2. Highest strength to weight ratio of any wood!!
3. Tough-even grained and soft textured
4. Resists tendency to split or splinter
5. Dries easily and stays in place
6. Unusual shock absorbing qualities
7. Withstands sharp impact and suddenly applied loads 
THESE COMBINATION OF CHARACTERISTICS ARE UNIQUE TO SITKA SPRUCE AND MAKE IT IDEALLY SUITED FOR ARROW SHAFTS 

Methods of Payment:


Don't have a paypal account? Credit Cards are accepted

Checks and money orders are accepted and can be sent to:
Hildebrand Arrow Shafts, LLC
Neil & Roxane Hildebrand, Robert Conlow, Angela Hildebrand
3901 South Tyler Rd.
Port Angeles, WA. 98363-9526
Shipping:
$12.50 per dozen, each additional dozen $4.00 extra
Shipping will be billed when orders are completed.
There is an additional fee of 3% in the United States
for overseas customers, there is an additional fee of 4%


state sales tax added for WA residents
Contact us for orders of over 1 dozen
Include spine (for weight) & zip code where order is to go in the US
International Orders - Please inquire for Shipping Rates and allow 4-6 weeks for delivery